March is here, so it's time to announce our Staff Members of the Month!
These individuals keep a positive attitude and are always willing to lend a hand to help our staff and students. Each one of these staff members represents our Riverwalk PRIDE, and we are so thankful for the impact they are making on our community.
We would like to congratulate Ms. Jessee, Mr. Williams, and Ms. Born for being selected as our March Staff Members of the Month! We greatly appreciate the time and energy they give to our Pride.
Ms. Jessee, 3rd Grade Teacher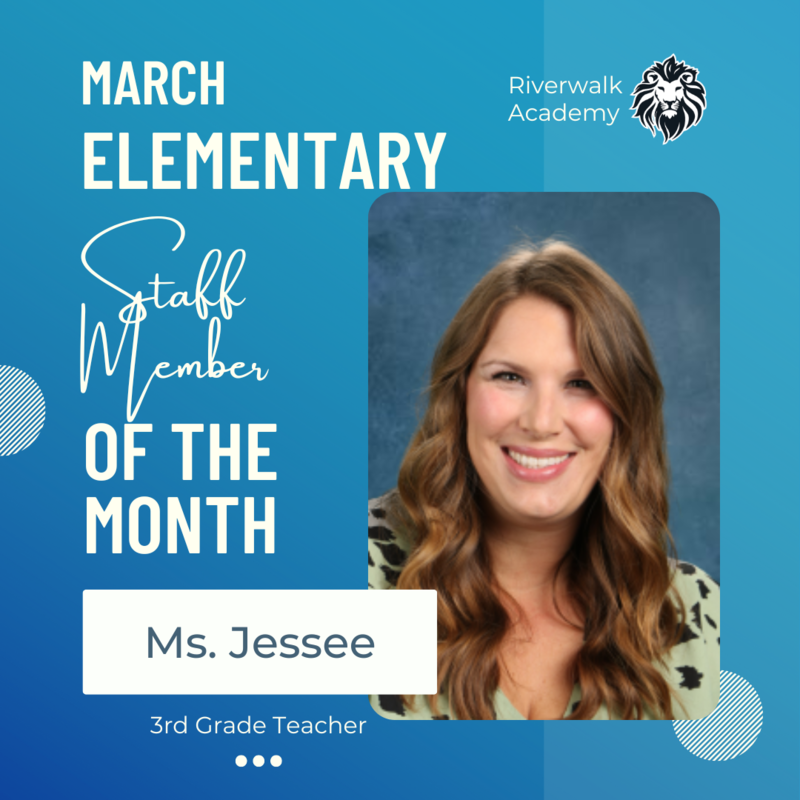 Jessee was nominated by a colleague who said:
"Mrs. Jessee carries out the mission of Riverwalk Academy on a daily basis. She models a classroom that promotes an environment where students are seen as individuals, taught the power of positive relationships, and equipped to take ownership of their choices. Mrs. Jessee has helped me become a better teacher because of the example she sets for others, both in life and in teaching. Thank you, Mrs. Jessee!"
Mr. Williams, 9th Grade Teacher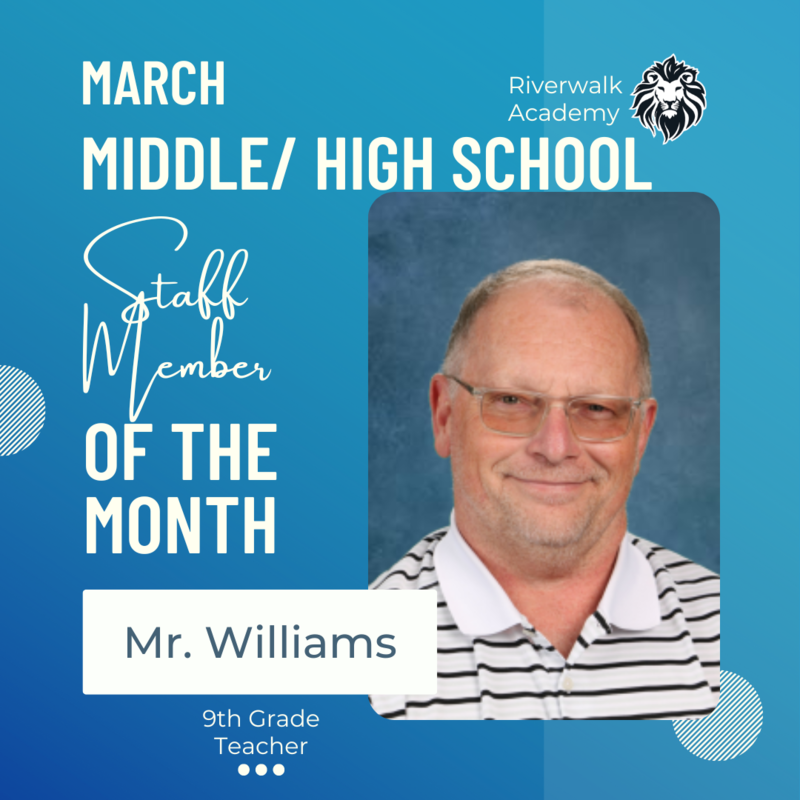 Williams was nominated by a parent who said:
"I recently attended my daughter IEP meeting. Mr. Williams really impressed me. He seemed to really know my daughter and see her the way I see her. Everyone cares for her and tells me how sweet and caring she is. Mr. Williams really "gets her" though. He spoke positively about his peers. He also offered to help her with Math, an area she is struggling with even though that isn't his subject and takes away from his free time. Teachers are great in my book that really care about their students. In my opinion that really went above and beyond his role and that's hard to find nowadays."
Ms. Born, Program Coordinator/ College & Career Counselor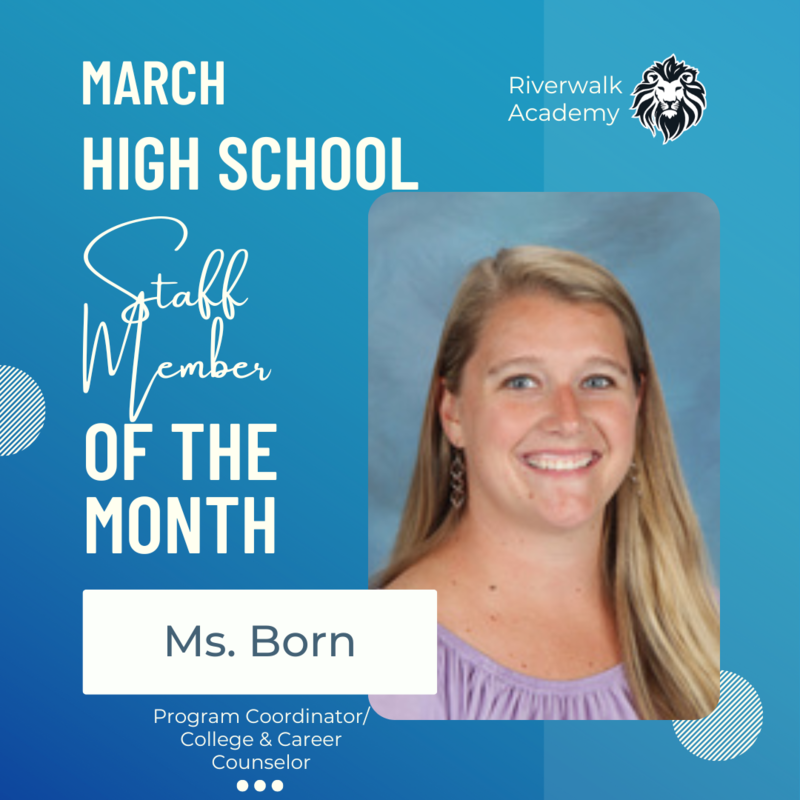 Born was nominated by a parent who said:
"As a parent, I would like to nominate Ms. Born as staff member of the month. Ms. Born has gone above and beyond to help with our son's IGP. As a rising junior there is a lot of hard work, growth and change that happens in the last couple of years of high school. The idea of our son earning an associate's degree or even just completing multiple college classes has been overwhelming to consider. Ms. Born did a lot of leg work researching options in the areas of interest he wants to pursue which helped to lift a big load of stress off of each of us. Because of Ms. Born's hard work it has allowed him to set a goal, see how he can achieve it in the next two years before graduation, to know that any path he may choose he will have support and it's ok to change paths along the way. Ms. Born truly cares about her students and wants to see them succeed no matter what goals they set and path they choose. Thank you Ms. Born for all the work you are doing! It does not go unnoticed. "
A huge thank you goes to these amazing staff members; thank you for helping us demonstrate the #PowerOfOurPRIDE!